A new study from the Population Research Bureau has identified counties with populations of children at the highest risk of being undercounted, including Harris County in Texas.
PRB's results suggest that two measures currently being used to identify areas where young children are more likely to be missed—the 2010 Census mail return rate and the Low Response Score (also based on mail return rates)—are not very good predictors of net undercount rates for young children in large counties. Using updated census data for the 689 counties, the new study points to data on family structure and living arrangements, recent immigration, and socioeconomic status as better predictors of the risk for child undercount.
"Developing this new risk measure for the undercount of young children in local communities is a big step forward," said Linda Jacobsen, co-author of the study and PRB's vice president for U.S. Programs. "It provides advocates and others with a new tool to better pinpoint neighborhoods that need special attention."
PRB's research finds young children are more likely to be missed in neighborhoods with high shares of:
Children living in poverty.
Adults ages 18 to 34 without a high school diploma or GED.
Children living in female-headed households with no spouse present.
Young children living with grandparent householders.
Households that are limited English speaking.
Children living in immigrant families.
People living in renter-occupied housing units.
The study's findings have been incorporated into the CUNY Graduate Center Census 2020 Hard to Count Map.
Harris County's Particularly High Risk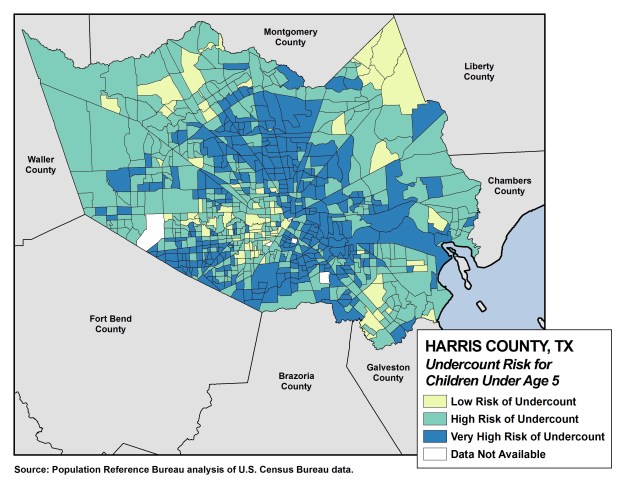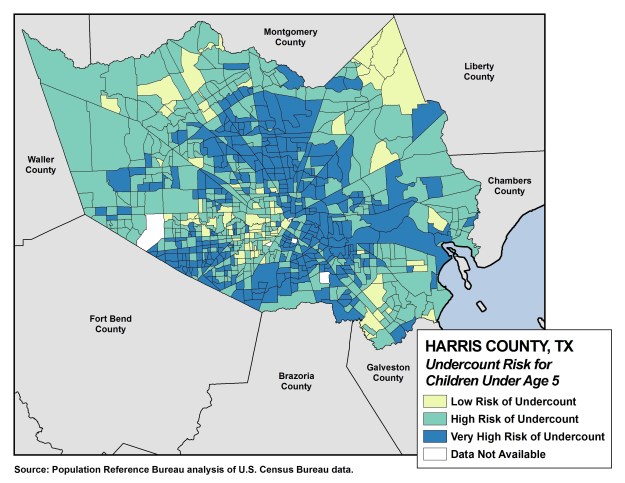 In Harris County, Texas, 40% of children under age 5 live in tracts with a very high risk of undercounting young children, children, according to PRB's analysis of data from the U.S. Census Bureau.
Sources: PRB analysis of data from the U.S. Census Bureau; Revised 2018 Experimental Demographic Analysis Estimates; and 2013-2017 and 2014-2018 American Community Surveys.